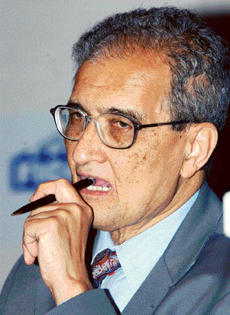 Prof Amartya Sen has done the ruling Left Front a big favor. In an interview given to Sambit Saha of The Telegraph, he has argued that 'prohibiting the use of agricultural land for industries is ultimately self-defeating'. [Image source]
This is a virtual endorsement of the LF's pro-industry drive by one of the leading luminaries on socio-economic issues, who is also a Nobel Laureate and associated with renowned institutes of the world. The point is does Prof Sen's opinion matter?
In hindsight the answer is it does. Prof Sen carries with him an enormous baggage of knowledge, which is so enriching that to hear him speak on a topic is like a gift to be treasured. His strength is in finding meaning embedded deep in a set of collated data, and for that he wouldn't mind going as far back in the history as the occasion demands.
I've had the opportunity to read his book, The Argumentative Indian
, which shows the depth and strength of his logic when he deals on a subject. Therefore, in the current context when he says he has studied the Singur phenomenon, there is no reason to doubt that his opinion has the power of his deepest conviction.
If this point is understood it is easy to say that Opposition MLA Sougata Roy's statement that Prof Sen ought to have visited Singur to gain first-hand knowledge about the situation there before commenting is nothing but a childish retort.
It's not that other pundits have not said what Prof Sen is now saying. Noted economist Abhiroop Sarkar of Indian Statistical Institute (ISI) has for long been saying precisely this in his lucid essays in both Anandabazar Patrika and The Telegraph (see my article, Arundhati Roy and Singur).
A remarkable statement Prof Sen made in his interview is as under:
In countries like Australia, the US or Canada, where agriculture has prospered, only a very tiny population is involved in agriculture.
What this conveys is that for agriculture like any other industry to prosper, there has to be investments for improved technology, be it in crop-produce, harvesting or storage. It is wrong to assume that agriculture is not an industry by itself and that it doesn't need investment for better crop output.
However, where the land holding is distributed among thousands, investment will not happen simply because to earn commensurate return from it one needs to own a minimum substantial chunk of land area to cultivate.
In other words if agricultural production has to improve, the technology has to improve, which calls for investment, which in turn will come only when there is hope of matching returns, which is not possible if land holding is paltry.
In fact if there is real possibility of high returns in agricultural production, one may reasonably argue that banks will make a beeline to give loans to land holders.
How will per owner agricultural land holding increase? It will only be when there are sufficient industries that can absorb manpower from agricultural sector. If their earnings increase from jobs in industries, the farmers may not be unwilling to sell off their lands to big farmers and farm industrialists who will then find it conducive to pump in money for higher agricultural production.
Pretty much the same has been echoed by ISI's Abhiroop Sarkar in his writings. This explains why world over industries come on farmlands, and in time increases the quality and quantity of farm produce instead of decreasing it.
Interestingly, the main Opposition leader has not uttered a word on Prof Sen's interview. Usually she doesn't perhaps because she knows she has no point to counter the argument.
Does this mean she will refrain from the agitation she is leading from the front? Well, no!
After the brouhaha over Prof Sen's interview dies down she and her party will again return to the path of opposing industrialization in the state. It'll again be back to square one.