Going all out for big-ticket private investments is the new mantra with government mandarins in Bengal. Any good development is always welcome, but if we pause to think why this suddenness and dig a little more, we'll be startled by unwelcome facts. A glimpse of what ails the state is reflected in a news report in today's ABP (Feb 8).
The report says that the CPM top brass have realized that state-sponsored development just doesn't work. In order to keep a vice-like grip in every sphere of public life, the state has slipped in nearly every vital segment. The ills are too apparent in all walks of life to ignore.
Conditions of public health, education and transport are so dismal that common people have lost all faith that they would ever improve. Even so, the ruling party routinely dismisses any form of disapproval, a trait grown as a habit because of 3 decades in power.
Of late though, some of the dressing-ups are blowing away by eye-opening studies. Already the Rajinder Sachar Committee report has shown how the left government has neglected Muslims during its 3-decade reign. And now the National Family Health Survey has found that Bengal's record on women's education, health and empowerment is abysmal. See this TT article, Women not well in Bengal.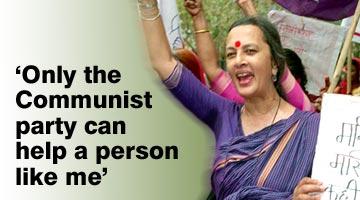 Not true,

despite her!

[Picture source]
Coming back to today's ABP story, the CPM, by placing Kerala and Bengal side by side, has come to recognize how its 'alternative' model of state-powered growth is just not viable in a country like ours. While it took them so long for this realization, they have meanwhile ensured collapse of work ethos, destroying thereby all moral uprightness Bengalis were once known for.