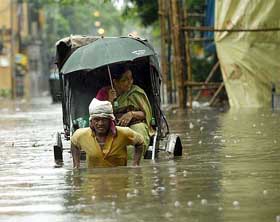 After 2 subsequent years' deluge brought Mumbai to the knees, the authorities there have recently asked for and granted Rs.1500 crore by the center to improve its drainage facilities.
The mandarins at Kolkata thought if Mumbai is given the largesse, why not the center blesses Kolkata too with similar attention! After all, the city can rightly claim the notoriety of heavy waterlogging as all have seen happening 3 weeks back.
To be true Kolkata hasn't experienced the volume of rains Mumbai received last year July and last month. Had that happened here, the city would have remained floating for days on end. [Image source left]
When the government here approached the center for money similar to Mumbai's, the latter agreed readily but there has to be some proposal, some planning for the fund to be granted.
Sensing center's benevolence, the state lost no time preparing a hurried blueprint to overhaul the city's drainage system. The bill – what else but Rs.1500 crore. The money is meant not only for Kolkata, but also for various municipalities adjoining the city.
Plans have been made that total the full kitty. Talking about that, we're enriched with the knowledge that the sewage from a city household travels 60 km to reach the Bay of Bengal. Here is how (and I quote from The Telegraph):
The first leg of the journey, about 10 km, is from the household to the pumping station through a network of underground pipes of different diameters. The run-off water is then pumped out to an outflow channel.

After flowing down about five km, it reaches the Bantala lockgates. From there, the sewage travels another 22 km to reach Kultigang at Ghusighata. In the final leg, the run-off has to flow 25 km to the Bay.
For good measure the KMC commissioner adds: Any blockage in this 60-km route from a household to the Bay can cause waterlogging in the city after a heavy shower.
Now that is a revelation indeed!