At 14400 feet (4545 meters), Nathu La is almost at the center between Kolkata and Lhasa, the capital of Tibet, a proclaimed autonomous region in China. It is 460 km from Lhasa and 550 km from Kolkata. Going by train from Kolkata, it takes about 12 hours to reach Siliguri and 4 hours to reach Nathu La by road via Gangtok. After the proposed road-expressway between Siliguri and Kolkata takes shape, one may expect a 12-hour journey from the city to Nathu La. Since China's road communication is better than ours, it will not be unreasonable to hope that Nathu La to Lhasa will be within 12 hours. Therefore, for me living off EM Bypass in South Kolkata, it will take just about 24 hours to reach Lhasa.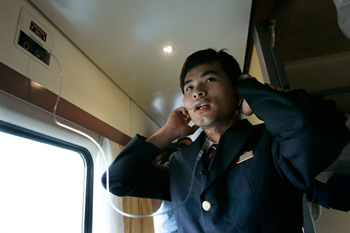 A train crew in Beijing-Lhasa train.
Picture courtesy China Daily & Reuters.

But wait. There is more. A week back, on July 3, a high-speed train from Beijing reached Lhasa at the end of 48-hour journey on its inaugural run.
The China Daily
reports that with this $4.2 billion project (started only in 2001), China hopes to boost tourism in Tibet. Probably, the tourists from their side will make a U-turn after visiting Tibet. But, what about us, the fun-loving, tour-thirsty Indians (specially Bengalis)? I'm sure, if situation permits, we'll love to go to Lhasa and then to Beijing. After all, the train journey wouldn't cost heaven and the time to travel is only 72 hours!! About the same time it takes from Delhi to Kanyakumari or Kolkata to Goa.

Indian and Chinese personnel rub shoulders right on border.
Picture courtesy The Telegraph.

As trade commences from yesterday through Nathu La, experts are busy commenting on scope of commerce. It will burgeon, no doubt there, because of hundreds of reasons. However, what will also get a tremendous boost is tourism. The simple reason for this unbridled optimism is that no other border post between India and China is as close to a metropolis as Nathu La to Kolkata. Not without reason that this is one of the oldest trans-border trade route between the 2 great countries. Let us hope the Silk Route will unlock the tremendous tourism potential in a short time from now.