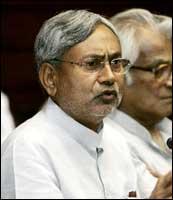 [Image source: left, right]
As long as he was the CM himself or through his wife by proxy, Lalu Prasad Yadav was hamstrung by a strange inability to do things that go by the adjective 'good' in his home state. There was lawlessness in Bihar, which more than anything else drew limelight, so much so that development almost came to a standstill.
Late 2005 it was when power changed hands in Bihar, and Nitish Kumar, who earlier had a very short stint in the hot chair, became the state's CM. Ever since, Bihar is said to be clawing back to some modicum of development, and going by accounts in the media it is no longer that unsafe to venture out in the night in the state.
If Nitish Kumar has been able to make a turnaround in the image of Bihar, his political rival, Lalu Prasad Yadav is not much behind, albeit in different capacity. And here we are witness to a curious turn of events.
Lalu Yadav occupies the very same chair as the railway minister at the center that was Nitish Kumar's before him. And while Nitish Kumar hasn't had much to show as railway minister, it is the incumbent minister, which is Lalu Prasad Yadav himself, who has pulled out almost a coup in the hitherto nondescript job.
Indian Railways under him is making waves here and abroad for good reasons. It's making sizeable profits, nullifying the economists' sole handout that unless the passenger fares are increased, the railways will continue to bleed.
Case studies in reputed management institutes about IR's great recovery apart, Lalu Prasad Yadav has metamorphosed his ministry into thinking big, very big.
There is a plan to invest – hold your breadth – $15 billion over 5 years next to transform Indian Railways into a giant entity as the biggest transporter of people and goods in India (read my story, The fight of 2012).
Once that happens, Indian Railways will perhaps for many, many decades to come, attain and retain an unassailable lead over any other transporter in any sector in the country.
They swapped places to let their workability bloom. History will remember them for not what they did earlier than now, but for what they are doing at present and will hopefully do in the future for the benefit of the nation.
Here's wishing both the very best.
Technorati Tags: lalu prasad yadav, lalu prasad, nitish kumar, bihar, indian railways
6000 Potential Translation Clients Every Month