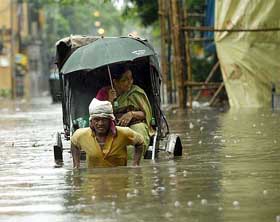 The picture on the left belongs to showery Kolkata of October 2004 (image source). In it the structure of a Durga Puja pandal can be seen in the background.
Yesterday's Kolkata resembled almost same, and in fact worse at some places in the north like Sukeas Street, Amherst Street and Ultadanga. In the south the badly affected were Behala and such renowned pockets like Panchanantala, parts of Park Circus among others.
Down with viral fever, I did not venture out yesterday. Today too I'm homebound. Schools too have remained closed for 2 days for good measure.
As I write this the rains are yet to stop though, drizzling as it is incessantly. If this continues overnight, there is every chance of severe water logging should there be just one or 2 heavy spells of shower. Let's keep fingers crossed.