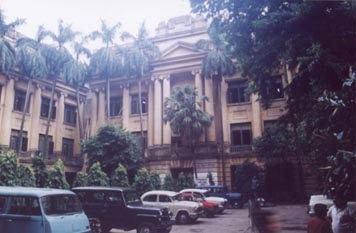 Calcutta University (CU for short) has a checkered history. Checkered, because while up to mid-70s of the last century, having formally started in 1857, it walked tallest in the annals of higher education in the entire Asia, the last 3 decades or so have seen steady decline in its standard as a whole. So much so that today one can cite many reasons why not to study at CU. Conducting exams is one. [Image source]
A 2-part article in ABP (March 9-10), quoting Onkarsadhan Adhikary report, succinctly narrates how irresponsible and lackadaisical is the approach of CU in deciding the fates of thousands of pupils every year, especially in postgraduate levels.
What does the report, the result of a study by Onkarsadhan Adhikary after visiting Pune, Mumbai and Chennai universities, submitted to the CU's faculty council say?
There is no rule as to within how many days must the results be declared. Because of this lacuna, the postgraduate results almost always are delayed, though there's some regularity at the undergraduate level. If examiners delay in checking papers, there is no rule to penalize them except deducting 10% from their honorarium. This is so less a punishment that it has clearly not stopped the bad practice.
A host of other faults has been pointed out in the report. Taken together, the picture that gets painted about CU is decidedly worrisome.
The way CU is run, there is no doubt that nothing would probably change had it not been for UGC's insistence to ensure that all university results must be declared by end-June so that fresh classes can start latest by end-July or beginning of August. There are other guidelines by UGC too, all directed toward making universities accountable so that overall standard of imparting quality education improves.
CU has no alternative other than towing UGC's lines. In doing so, it's fumbling time and again. Tragic indeed for a university that has seen some of the world-famous personalities of this country and elsewhere walking down its hallowed portals once upon a time. That was when CU commanded respect from allover world. Now, it's only the moan of failure that hounds CU.
Technorati Tags: calcutta university, calcutta, kolkata, university of calcutta